During corn starch syrup plant, liquifaction is a very important role in corn starch syrup processing plant.Here, this article will introduce the liquifaction section in corn starch syrup plant.

Put the starch slurry into the mixing tank. Sometimes you will find mixing tank surface with brown floater, it is likely to be excessively high protein content. It will cause high dosage of activated carbon, increasing the load of ion exchange, and reducing the service life of ion-exchange resin, so we must ensure that the starch milk protein content is below 0.5%.

Liquifaction machine in corn starch syrup plant
In order to make full use of the mother liquor when corn starch syrup processing, the part starch milk can be recycled in the mixing slurry process, and the normal return amount can reach up to 2/3. The overuse will affect the quality. Average concentration is 35% - 36%. Mixing temperature is 29 ℃-34 ℃. Then putting starch slurry into the ejector, large and medium-sized enterprises flow rate is 25-40 m3 / h; steam pressure is 0.4 Mpa; liquefied liquid temperature is 99 ℃. After that entering the laminar flow tank for heat preservation of 60 minutes, and then into maintaining tank. Put the liquefied liquid into the second ejector.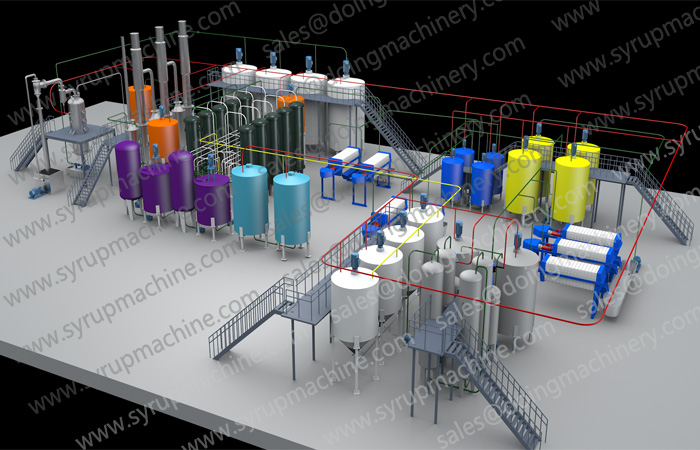 The corn starch glucose syrup plant
The steam injection pressure control is 0.2 Mpa; the temperature control is 130℃ to 134.6℃. Liquefied liquid will come into the high temperature maintain tank and then secondary flash cooling tank. The liquid temperature lower 64℃ to 60℃ to neutralize, then coming into the neutralization tank, adjusting the pH value to 4.4-4.5 for preparing glycosylated.

We can provide you the compelet set corn starch glucose syrup processing plant machine.As the professional glucose syrup processing machine supplier in China,our company engineer can provide you a feasibility program according to your demand for corn starch glucose syrup processing plant.