Relying on advanced equipment manufacturing experience and technology, Doing Machinery takes the solid construction experience as the packaging and the perfect technology as the guide. DOING company design and fabrication the fructose syrup making plant turn-key project with various specifications.

Doing Company adopts advanced and mature double enzymatic method and chromatographic separation technology. Fructose syrup making plant turn-key project is suitable for the production of F-55, F-90 high fructose syrup, F-42 fructose syrup and other products. Ability to design fructose syrup production line, glucose syrup production line, malt syrup production line according to customer requirements, DOING fructose syrup making plant turn-key with various types of starch or rice flour as raw materials for production, good economic benefits. Doing company can customize the daily output fructose syrup making plant turn-key project from 1T-200T for you.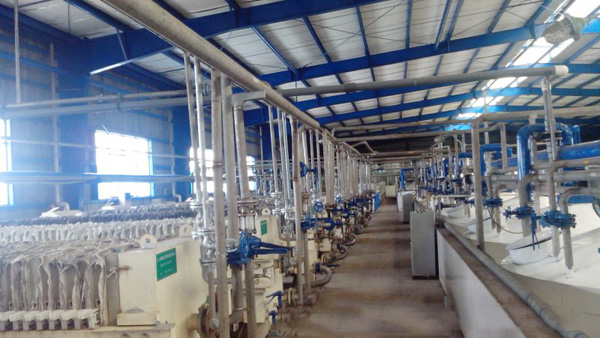 Fructose syrup making plant
The production of fructose syrup making plant turn-key project is based on the multi-enzymatic hydrolysis of starch from three enzymes, namely a-amylase, amyloglucosidase and glucose isomerase. The first two enzymes hydrolyze starch into glucose, and the third enzyme is glucose isomerase catalysis glucose into fructose.

Glucose isomerization results in fructose. In order to increase the fructose content by more than 90%, Doing has developed ion exchange technology and chromatographic separation technology for fructose syrup making plant turn-key project design and fabrication to make the quality of fructose syrup produced better and meet the needs of many aspects. The fructose syrup making plant turn-key project designed and fabrication by Doing Company, its processing is mainly divided into three parts, starch liquefaction, starch hydrolysis and conversion to glucose, and glucose isomerization to fructose.
Ion exchange column
Starch, certain water and a-amylase are added into the specialized mixing tank to get starch milk which is a transparent and sticky liquid, even not stirring, the starch will not be precipitated, then pump the starch milk into the ejector, after first ejector and second ejector process, liquefied liquid will come into the high temperature maintain tank and then secondary flash cooling tank, next coming into the neutralization tank, adjusting the PH value to 4.4-4.5 for preparing saccharification for fructose syrup making plant turn-key project processing.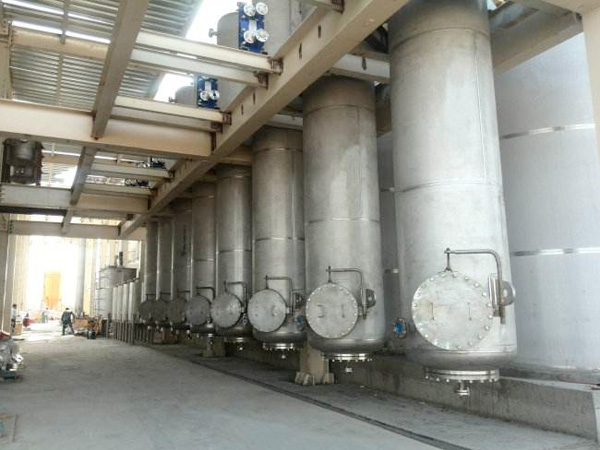 Fructose syrup processing equipment
The liquid through saccharification process by reaction with amyloglucosidase to get glucose, after filtration to remove protein and color, this part in fructose syrup making plant turn-key project main adopt machines are saccharification tank and plate frame filter press. After filtration, get clean liquid glucose.

Liquid glucose is converted to fructose by isomerase, and 42% fructose product containing 51-54% glucose is refined by decarburization and ion exchange equipment to remove color, salt and other impurities, and products containing higher fructose content (F90) It is made by chromatographic separation technology, and F55 fructose can be obtained by mixing F42 and F90.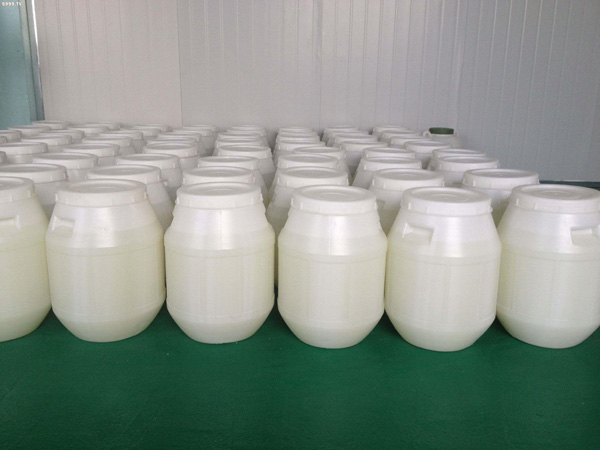 Finished fructose syrup
The isomerase DOING are using in fructose syrup making plant turn-key project is a kind of immobilized enzyme. Converted from soluble state into immobilized state, the stability of isomerism will be increased significantly and it can be ues repeatedly in the high fructose corn syrup manufacturing process. This immobilized enzyme used in food processing make food free of enzyme after production, so there is no need to adopt the way of heat treatment to make enzyme inactivated, which can help improving the quality of food as well as economic benefits.