Buy syrup manufacturing machines, Doing Machinery will be a good supplier, and there will introduce Doing Company syrup manufacturing machines for your reference.

The process of syrup manufacturing machines could be divided into several main parts: slurry mixing process, liquefaction process, de-protein process, saccharification process, de-color and de-carbon process, ion exchange process, evaporation process and final packing process. Syrup manufacturing machines used in the production line is made of food grade stainless steel, which can make sure safety and sanitation as well as anti-corrosion. Rice and starch could be used to make glucose syrup, by the way, DOING syrup manufacturing machines can be used for glucose / fructose / maltose syrup production.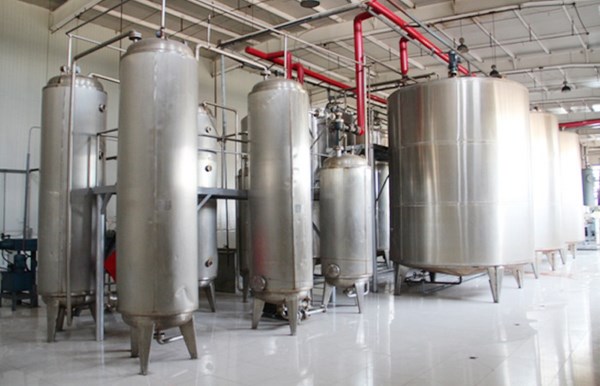 Syrup manufacturing machine
Syrup manufacturing machines used in liquefaction process is jet cooker. Starch is insoluble in water and it will exit in suspension liquid form when mixed into slurry. Jet cooker can increase temperature of liquefaction tank in very short time. In the environment of high temperature, starch granule starts to swell and its size could be dozens of times to the original volume. And finally it will become transparent and sticky liquid because of interaction. This phenomenon is called gelatinization. After liquefaction process, we can get dextrin as output products.

Filter press machine is one of syrup manufacturing machines that is used in de-protein and de-carbon process. In the de-protein process, liquid dextrin which has been through high temperature jet cooker shall move into filter press for mechanical extrusion. The filter press will separate protein and other solid impurities from liquid dextrin. After that, the liquid will be pumped to next process, the protein cake will be left for sale. In the de-carbon process, activated carbon is added to make sugar liquid colorless. So after de-color process, we need to remove activated carbon by filter press machine under principle of liquid-solid separation.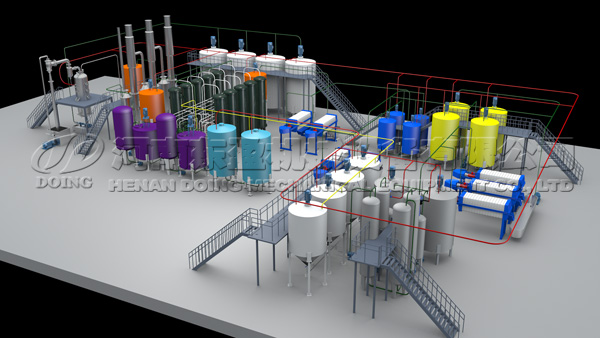 DOING syrup manufacturing machines design
Ion exchange column is one of syrup manufacturing machines that is used to eliminate inorganic impurities. In previous process, although organic impurities have been removed, there are still water-soluble inorganic impurities that exit as kation and anion forms in water. The cation in the sugar liquid exchanges with H+ on the cation exchange resin, the anion in the sugar liquid exchanges with the OH- on the anion exchange resin, and finally the H+ and OH- is combined to water. By the effect of ion exchange column the sugar liquid inorganic impurities are all changed into corresponding amount of water and removed.

After purification and refining of the sugar liquid, the concentration is relatively low, it is not convenient to transport and store, and most of the water must be removed. So syrup manufacturing machines evaporator machine is adopted here to evaporate excessive water and make glucose syrup to reach the required concentration. Evaporator can be divided into single-effect evaporator and multi-effect evaporator. In order to make full use of steam and reduce energy consumption, three-effect evaporator is commonly used. After evaporation, the concentration is averagely at 72%-75%, which is good for transportation and storage.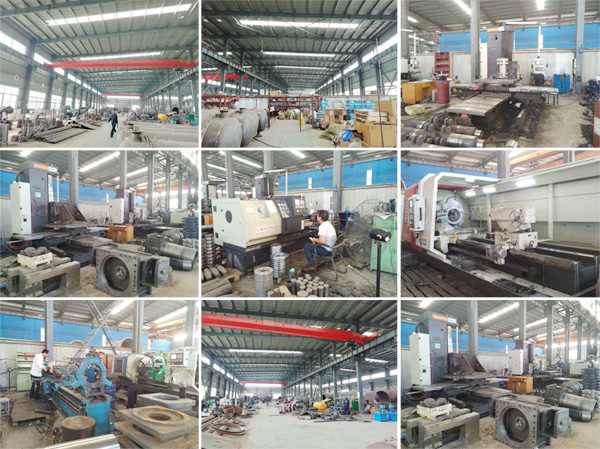 DOING company factory work shop
Syrup manufacturing machines from DOING company is designed and manufactured in our own factory, which can make sure high quality as well as competitive price. Our team can provide clients turnkey projects include design, manufacture, delivery, installation, commissioning and training of local users. More details, welcome to your visit to our factory for further communication.